According to the American Nurses Association, there will be significantly more registered nursing positions available by 2022 than any other profession—more than 100,000 per year. This isn't even factoring in the more than 500,000 RNs that are planning on retiring. The U.S. Bureau of Labor Statistics projects the need for 1.1 million new RNs in 2022 to avoid a nursing shortage.
There are four driving factors impacting these numbers:
1. Nurses are retiring earlier
The ANA estimates that 1 million nurses will retire between now and 2030. Not only is the profession expected to lose a large number of nurses, but when experienced nurses leave, healthcare organizations are left to mitigate the threat of lost knowledge. Nurses will leave with the critical nursing experience and knowledge they have accumulated
2. The Aging Population is increasing
The U.S. has the largest number of Americans over the age of 65. As the population ages, the number of health conditions, chronic illnesses, and co-morbidities requiring healthcare services grow. These increasing healthcare needs require healthcare organizations to increase nursing staff to provide quality care safely.
3. Shortage of nurse educators
According to AACN, U.S. nursing schools turned away more than 80,000 qualified nursing applicants in 2019 due to insufficient number of faculty, clinical sites, classroom space, and clinical preceptors, as well as budget constraints.
4. Nurse burnout
Nurses are overworked and mentally and physically exhausted, especially after the COVID-19 pandemic.
Although hospital administrators are facing a huge dilemma in the coming years, there are technologies available now that can augment their current and future nursing workforce to keep patients healthy and safe.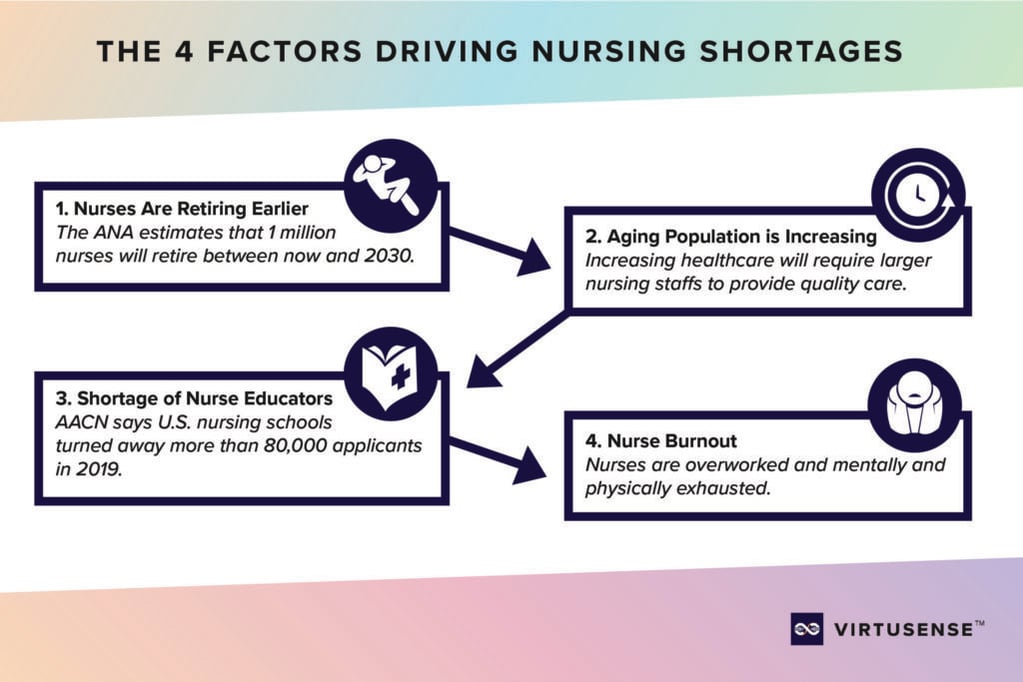 Artificial Intelligence Assists Nurse
VSTOne has enabled a proactive model for care delivery in the hospital. VSTOne is a continuous remote monitoring and telehealth device using artificial intelligence (AI) and machine learning (ML) to aid providers in acute settings to more effectively care for more patients with fewer resources. The platform uses an array of machine vision and IoT sensors to monitor patient vitals (movement, heart rate, respiratory rate, blood pressure, O2, etc.); artificial intelligence to recognize anomalies; and mobile applications to alert healthcare workers before a patient's condition declines.
VSTOne receives a constant stream of health data from chronically and critically ill patients and leverages AI to interpret it, resulting in actionable alerts and decision support. Instead of waiting for a patient to report their symptoms, VSTOne recognizes early warning signs before the symptoms themselves manifest. Early warning enables early intervention, which means that patients will be able to avoid many serious health issues all together.
Less Rounding & Fewer False Alarms
Because of VSTOne's telehealth capabilities and vital sign data acquisition, more patients can be managed with fewer resources, thus reducing the workload for nurses. Traditionally, a nurse or tech will check patient vitals every few hours to monitor their condition. With VSTOne, a patient's vitals are continuously monitored and are available as data points in time or as trends to the nurse's phone as well as to a central monitoring station. Rather than 3-4 snapshots of the patient's condition, VSTOne creates a movie of real time trending information. When relevant changes occur alerts are sent immediately so that interventions can begin as quickly as possible. Because of the use of the AI and ML, the specificity is remarkable with little to no false alerts.
Floor Management
The VSTOne Console allows you to manage your entire floor from a single screen. You can assign rooms to nurses and staff, track shifts, onboard patients, and view the status of each room in real-time. VSTOne automates routine vitals checks, non-emergency in-room visits, and gives patients the means to talk with family, specialists, or their doctor remotely.
A New Way Forward
We developed VSTOne to be the first step toward a better, more connected healthcare system. Many different organizations are addressing isolated parts of the issue, but these solutions are still triggered by patients' self reporting symptoms consistent with the traditional reactive healthcare delivery model. What VirtuSense has done with VSTOne is create a comprehensive ecosystem that addresses multiple angles of the care delivery problem with greater sensitivity and specificity.
For more information on VSTOne, please click here.
This article originally published here.